< Back to All News
A Send Off to Senior Scholars at St. Joseph Academy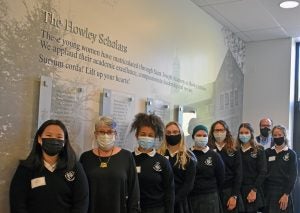 Every year, Lorie Howley joins the graduating Howley Scholars at St. Joseph Academy for a luncheon commemorating their time at the school.  The Scholars share some of their favorite memories form the past four years, reveal their college choices and majors, and express their gratitude for the Foundation's support of their academic pursuits.
This year, Lorie & Executive Director, PJ Reindel joined the Senior Scholars for the luncheon (see photo) and were pleased to congratulate them in person.
A favorite part is sharing book recommendations.  Some of the colleges these scholars will attend include Ohio State University, Ursuline College, John Carroll University, the University of Cincinnati, and the University of Dayton.  The Howley Foundation wishes these Howley Scholar graduates the best as they prepare for college and meaningful careers!