< Back to All News
Foundation Feature: Building a Foundation
Philanthropists Nick and Lorie Howley are not new to giving back. They've been quietly and generously supporting educational initiatives for underprivileged children for almost twenty years. In many ways, their philanthropic strategy is unique as they have involved themselves in ways beyond making outright gifts. Through the Howley Foundation, Nick and Lorie Howley have set out to make a difference in the world—one student at a time.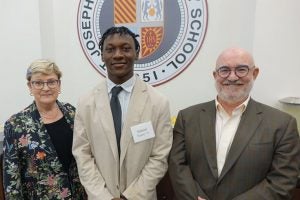 When Nick and Lorie founded the Howley Foundation in 2001 to provide scholarships, they started with a simple idea, one that originated with their own experience as parents. According to Nick Howley, "When people ask us why we do this, I tell them how Lorie and I have always believed the only lasting thing we could provide our children was a high-quality education and a sense of right and wrong, or a strong moral compass. But not all kids have access
to the kind of high-quality education that also promotes character development, and for many, it's the only type of education that can help them break the cycle of poverty."
So, the Howleys set out to fill that gap. Starting with a single scholarship in one Cleveland Catholic high school, the Howley Scholars Program has grown to provide annual scholarships covering four years of high school to over 700 students in two major cities (Cleveland and Philadelphia), select boarding school students, and to college students around the United States. Historically, tuition assistance has been provided for economically disadvantaged students to attend private high schools, but in recent years, their support has expanded to three major levels of education, as well as grant support to various network-style educational institutions and programs.
Scholarship Assistance through Schools
Commenting on their growth, Lorie Howley said, "We started with one student, and as we were able to start giving out more and more scholarships, we advanced our level of sophistication. We used data to identify schools in underprivileged areas and started sending out applications to elementary and middle schools. The number of applicants grew year after year, it just kept snowballing. While that was happening, we wanted to stay true to our original plan, which was to have ongoing contact with our students. We want them to understand that we're behind them, that we're proud of them, and that we know they're on the path for success."
In the early years, the Howleys were able to have one-on-one lunches with each of the Howley Scholars, at least once a year, and the scholarship recipients were required to send letters to the Foundation to give updates on their progress. Now they keep in touch through group lunches set up by the schools and they rely on reports from the participating schools to make sure the Howley Scholars are living up to their end of the bargain—working hard, being involved in the school, and maintaining a certain standard of academic achievement.
"We're making an investment in education and instilling a strong work ethic in our students along the way. We never wanted our focus to be writing checks randomly. Our goal in everything we do is to have lasting value," Nick added.
Lasting value is the key to the Howley Foundation mission, which states, "the best way to create upward social and economic mobility and improve lives is to provide quality educational opportunities." Those educational opportunities combine strong academics with character development and are often found in the Catholic school system whose long-standing emphasis has been on providing a good moral compass for their students.
Educational Support Through Grantmaking
Support from the Howley Foundation is no longer limited to Catholic school scholarships. In response to the many new and creative ideas they've come across over the past two decades, the Foundation has expanded its model to include grantmaking.
"We see new and innovative educational models that are working. It's important to elevate that work so other educators can learn, replicate, and utilize those models to better serve students."
-Nick Howley, Founder, Chairman & Trustee
Grants from the Howley Foundation have focused on several non-traditional programs, including support for a network of schools for kids with special needs, programs that offer trade and technical training, and enrichment-type programs. Nick added, "One thing we've learned over the years is that one of the biggest issues is retaining kids because their lives are so disrupted. We've also been exploring retention initiatives around the country to try and make a more sustainable impact."
Grants have been given for a math initiative across the Cristo Rey Schools, a network of nationwide high schools that integrate four years of rigorous college preparatory academics with four years of professional work experience; to a capital campaign at St. Joe's Prep School in Philadelphia (of which Nick is an alum); and for the startup of a new Cleveland area school for refugee children as part of the Fugees Academy program, which already had schools in Atlanta and Columbus. The Foundation has also funded several feasibility studies, has supported the Boys & Girls Club as a pipeline to Benedictine High School, and provided funding for the Cleveland Clinic's ASPIRE program. Stay tuned for more information about these grantees in future e-newsletters.
Nick and Lorie Howley may be working quietly behind the scenes to fulfill the Howley Foundation mission, but their commitment to addressing issues of equality and promoting upward social and economic mobility comes through loud and clear.