< Back to All News
Cleveland Clinic Shares Report on Impact of ASPIRE Program
The Cleveland Clinic prepared an Ambitious Impact report for The Howley Foundation that highlighted the ASPIRE Nurse Scholars Program. ASPIRE is sponsored by Cleveland Clinic and the Howley Foundation in collaboration with Ursuline College Breen School of Nursing. This enrichment program reaches high school juniors interested in pursuing a career in nursing.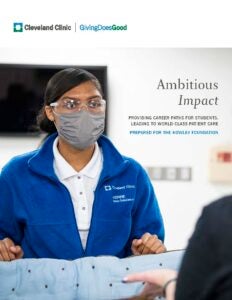 The Howley Foundation's steadfast belief in education and opportunity has created an enduring legacy. The Cleveland Clinic report noted, "Your family's efforts to promote career paths for students from marginal communities through the ASPIRE Nurse Scholars Program have cultivated meaningful community relationships that benefit students and caregivers. From an idea that came out of a hospital experience in 2016 to the first ASPIRE Nursing School graduates, your generosity is changing lives."
Click here to read more about the ASPIRE program, its trajectory, and its evolution.