< Back to All News
Howley Dormitory Groundbreaking Ceremony Held at Williamson College of the Trades
Originally published on the Williamson College of the Trades website
Construction of a 72-bed dormitory took a big step forward with the Howley Dormitory Groundbreaking Ceremony on March 21.
The dormitory is named Howley Dormitory in honor of the donors who contributed $7 million toward its construction – Nick and Lorie Howley and the Howley Family Foundation.
Nick Howley, founder and chairman of the Howley Foundation, in his speech during the ceremony said he and his wife and the Howley Foundation were so impressed by Williamson and its mission that they were inspired to provide money to help make the construction of the 72-bed dormitory possible.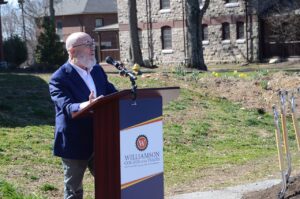 He said because the foundation's goal is to provide people with limited finances with a good education that promotes good character formation, "It's hard to see something that could fulfill that better than Williamson."
Howley said, "Williamson is a unique school and you guys are special. You're well educated, you're skilled, you're responsible people. You show up to work, you work hard. What else could anybody want?
"The fact that you get a couple hundred companies paying to meet with you is amazing. I guarantee that no school sees that in the country. The average starting salary for Williamson graduates is about $50,000. The average across all of the colleges in the United States is $43,000-45,000 a year. The average debt for a student graduating from Williamson is zero. The average around the country is $30,000.
"I am astounded at the number of companies that come to recruit students on this campus. I don't know if there are any other colleges in the country that can say that. The issue here is, you can't give enough people that opportunity. Getting in here is like getting into an Ivy League college, maybe harder."
President Rounds, in his opening remarks, said "Today we gather to celebrate another important milestone in our strategic goal of increasing the student population here at Williamson College of the Trades allowing more young men to receive the benefits of a Williamson education.
"Unfortunately, every year we turn away a couple hundred applicants because we don't have enough space for them. Every year, we also turn away a hundred plus companies who would love to hire a Williamson Man, but there are not enough graduates for all of the open jobs."
He added that the incoming freshman Class of 2026 had over 500 applicants, and 118 of the 124 students who were offered admission are Pell eligible. We have 83 students on the waiting list. Also, 235 companies participated in this year's career fairs.
"With the high demand for Williamson Men, we feel Mr. Williamson would want us to stretch and challenge ourselves to go after the resources we need to offer this amazing opportunity to as many young men as we possibly can.
"Now we are breaking ground for the construction of the Howley Dormitory, the final key capital project in the college's $45 million Expanding Opportunity Comprehensive Capital Campaign. This dorm will house 72 students on three floors with 24 students, a student lounges and a dorm manager apartment on each floor. When it is completed and in use in August 2024, we will have the capacity to house nearly 400 students.
"The Howley Dormitory not only means that 72 additional young men will have the trajectory of their lives changed forever in a positive way, but this investment will have a powerful ripple effect. Our graduates will go out into the world as Williamson Men with our core values guiding them in all that they do. They will be good husbands and fathers, they will be assets to their communities, and they will make outstanding employees with a great work ethic and trade skills. But it doesn't end there, their Williamson legacy will inspire their children to follow in their footsteps and live good, productive lives and, later, their grandchildren, and on and on. We are a small school, but we are making a huge difference. Admitting more young men magnifies the impact we can make and the Howley Dormitory makes this possible."
William Bonenberger 7W9, board chairman, said "This dormitory is essential to our strategic plan of increasing the number of students being admitted to the college. The Howley family is investing in you, the student, not just a building. The money is going to the building, but the investment is in each one of you, and it's one heck of an investment. We have also received significant investments for this project from Crystal Trust, Baker Concrete Construction, the McLean Contributionship, and an anonymous individual.
"On a personal level, speaking as someone who has gone through the program here, and knowing how it can affect and change a person's life as it has for each one of these gentlemen standing here [the students]. I want to thank Nick, Lori, Meg, the Crystal Trust, Baker Construction, the McLean Contributionship, and an anonymous individual because without you, it would not be possible. We can't save everyone, but every additional one we can save is a step in the right direction. That is what our Expanding Opportunity Campaign is all about."
Howley Dormitory was designed by Spiezle Architectural Group of Springfield and is being constructed by PJ Dick of West Chester.
After the speeches, ten guests lined up wearing hard hats and holding a shovel to break ground. The group included Nick, Lorie, and Meg Howley; Pat Anderson, director of Crystal Trust; President Michael Rounds; William Bonenberger 7W9, board chairman; Jason Minch, president of the senior class; Tim Brown 0W1, vice president of operations; Bob Reid, associate principal of Spiezle Architectural Group; and Gary Heinerichs, regional manager of PJ Dick.
The Howley Dormitory, which will be located on Cottage Row near the Lipp Education Center, will blend in with the original dorms designed by the famous Victorian-era architect Frank Furness. Each of the three levels will have a dozen double-capacity rooms, a shared hall bathroom, a lounge, and an apartment for a dormitory manager.
Nick Howley is the founder and executive chairman of the TransDigm Group, Inc., a $60 billion company headquartered in Ohio. His company is a leading producer of a wide array of highly engineered aerospace products. One of the largest aerospace suppliers in the world with about 120 plants, two-thirds of their facilities are located in the United States.
He is also the founder and chairman of Perimeter Solutions, a $2 billion company headquartered in St. Louis, Mo. It is the largest provider of wildfire fighting and prevention chemicals and wildfire fighting services in the world.
He is the 2022 recipient of the Singleton Prize for CEO Excellence given by the Singleton Foundation. This prestigious award goes to a CEO whose work demonstrates a combination of talent, vision, focus, and commitment. It serves as a lifetime achievement award for chief executive officers.
Lorie Howley worked for many years in the Education Department of Longwood Gardens, where she developed postsecondary and continuing education programs. In 2001, she became the executive director of the Howley Foundation and in 2014, president of the board of directors. She has grown the scope of the organization from a few high school students to an endeavor that includes programs in elementary, high school, and college education.
The Howley's daughter, Meg Howley, plays a vital role in the family's philanthropy. Since 2013, she has worked as the Executive Director of the Howley Foundation in Philadelphia, to establish the foundation's presence in the region while also increasing the number of Cleveland students receiving scholarships. She has broadened the foundation's focus to encompass support for grade school scholarships, select special education programs, and postsecondary institutions.
The Howley Family Foundation was created in 2001 by Nick and Lori Howley out of their desire to help financially needy young people receive a good education so they can become productive and independent adults. They believe that education is one of the most important catalysts in promoting positive change in the lives of individuals and society. Today, the foundation supports the Cristo Rey Network of schools in Chicago and more than 900 students in Cleveland and Philadelphia.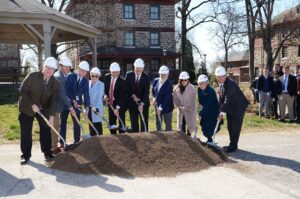 Chaplain Mark Specht 7W7 opened the ceremony with an invocation and closed it with the benediction.
Pictured in the group photo are (from left to right): Bob Reid of Spiezle Architectural Group; Tim Brown 0W1, vice president of operations; Jason Minch, senior class president; Pat Anderson, director of Crystal Trust; William Bonenberger 7W9, board chairman; President Mike Rounds, Nick Howley, Meg Howley, Lorie Howley, and Gary Heinerichs of PJ Dick.