< Back to All News
New School in Westlake Opens to Serve Children with Learning Differences
Originally published on the Julie Billiart Schools website
On Wednesday, August 25, 2021 at Julie Billiart School (JB) Westlake, forty-four(44) students will walk through the doors of their new school. The students, who have special learning and social differences, now have a school on the West Side that is completely customized to their unique learning needs.
Julie Billiart Schools, a network of Catholic, independent K-8 schools for children with learning differences, strategically designed and staffed its newest campus at 3600 Crocker Rd. in Westlake to continue their mission and support children with mild to moderate autism, ADD/ADHD, anxiety, dyslexia, and other learning differences. This year JB Westlake is open to grades K-4 and will open to JB's full model of K-8 in the fall of 2022.
"We are absolutely thrilled to open our newest school to these 44 students and their families." said Lannie Davis-Frecker, President and CEO of Julie Billiart Schools, "For years, we have thoughtfully considered and planned for this expansion of our family of schools. We know that JB's whole-child approach and expertise in special education will enhance the educational landscape in this community and we're blessed to be able to bring the JB Way to families on the West Side."
JB Westlake students will enjoy a modern, spacious school building with sensory-friendly classrooms, a large gym, a beautiful chapel, therapy rooms, specially-designed quiet zones, and plenty of space to learn and play. Like the other JB campuses in Lyndhurst and Akron, the school offers a 6:1 student-to-teacher ratio in primary grades and an 8:1 ratio for grades 3-8, two intervention specialists per grade, an onsite Board Certified Behavior Analyst (BCBA), and onsite speech, occupational, music, and art therapies.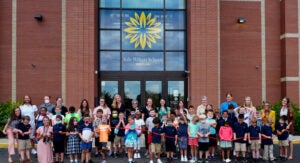 "Seeing the expansion of Julie Billiart Schools to the West Side of Cleveland has been our vision for many years," explains Tricia Gerak, JB Board Chair. "There was a tremendous amount of research to discern the need of the services and the environment JB provides, and there were a lot of generous people who believed in and supported the school's mission to make this growth possible. Giving these children a place where they are loved and accepted is the greatest reward for our board."
"I am looking forward to seeing their faces light up when they arrive on the first day of school," said Samantha Evers, Principal and Director of Admissions of Julie Billiart School Westlake. "We are so appreciative of the many families, businesses, and organizations that have welcomed us into this community, and we look forward to serving more families in the years to come!"
JB Westlake, is slated to be accredited by the Ohio Catholic Schools Accrediting Association (OCSAA) as part of the Catholic Diocese of Cleveland through the State of Ohio. The school will follow the Cleveland Catholic Diocese and Ohio Department of Education course of studies. Julie Billiart Schools are providers of the Jon Peterson Scholarship and the Autism Scholarship Programs. All JB students in Westlake, Lyndhurst and Akron receive some form of tuition support.
When it opens to grades K-8 in the fall of 2022, JB Westlake will be able to serve 132 students. Spaces are available in grades K-4, to inquire about openings or to schedule a tour, email admissions@jbschool.org.
JB Westlake will hold monthly in-person Interested Parent Open Houses beginning mid-September.
—
Julie Billiart Schools, a community of schools with campuses in Lyndhurst, Akron, and Westlake, strive to build self-confidence, inspire Christian values, and empower K-8 students with skills, knowledge, and enthusiasm for life-long learning. Small class sizes, onsite specialized therapies, and highly experienced intervention specialists are just a few ways that Julie Billiart Schools take students with mild to moderate autism, ADD/ADHD, dyslexia, and other learning difficulties beyond education, and beyond expectations.