< Back to All News
Nick Howley Gives Keynote Address at Williamson College of the Trades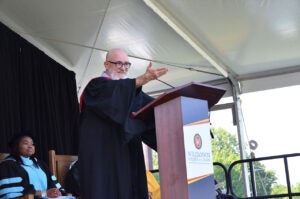 Williamson College of the Trades recently graduated 67 students with W. Nicholas Howley, the Founder, Chairman and Trustee of the Howley Foundation, as the keynote speaker.
Addressing the graduating seniors on a stage on the athletic field, Howley said, "You men learned valuable life lessons here. You learned a trade or skill that will stay with you for your life. You learned how to be responsible, hard-working, decent men. You learned character and that is more valuable than anything else you learned."
"These hard and soft skills will serve you very well through your life. They are hard to find and often lead to career and personal success. Career success can mean many things, but personal success is even more important. What you learned here will make you a good, productive, contributing member of society."
In introducing Howley, the college reported that President Michael Rounds said, "He spoke recently at the groundbreaking of the Howley Dormitory, a triple dormitory with three dormitories under one roof that will allow 72 young men to pursue a Williamson education. This means that every year 72 guys will have the trajectory of their lives changed forever in a positive way because of the generosity of Nick Howley and his wife Lorie and the Howley Family Foundation. They made this dormitory possible by contributing $7 million for its construction."
Howley is the Founder and Executive Chairman of the TransDigm Group, Inc., headquartered in Ohio. The company has a roughly $60 billion market value and is one of the largest aero suppliers in the world, with about 120 plants. The company is a leading producer of a wide array of highly engineered aerospace products. The company has acquired 85 proprietary aerospace businesses since its formation in 1993.
Listen to Nick's keynote address here: