< Back to All News
Perspective Feature: Investing in Educational Models that Work
Dear Friends of The Howley Foundation,
Since first becoming involved in educational philanthropy, much of our time and money has been spent providing Howley Scholarships to students of limited economic means. Over time, we have learned that it requires more than financial support of individual students to ensure that strong academic and character-building opportunities are accessible and sustainable long term.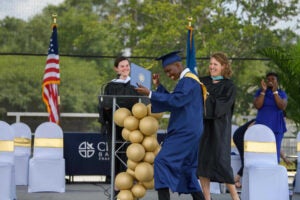 The Howley Foundation invests in schools and programs that have successfully adopted unique and innovative models that help students achieve greater social and economic mobility.
We wanted to specifically look at one educational model that works—the Cristo Rey Network. With 38 high schools located throughout the United States, Cristo Rey successfully integrates college preparatory academics with professional work experience. Their students benefit from a traditional Catholic education while learning to navigate the workforce at the same time—an approach that goes the extra mile in preparing students for the real world.
The Howley Foundation is proud to support their efforts through funding:
National Network programs and initiatives
Local Cristo Rey schools within our target areas of Cleveland and Philadelphia by supporting St. Martin De Porres in Cleveland and Cristo Rey Philadelphia High School
Enrichment programs designed to further help students succeed, like the Student Success and Retention Grants program and Putting MATH Education to Work
Capital expansion into new markets, including Miami, Richmond, and Charlotte
We hope you'll check out our Cristo Rey Network/The Howley Foundation video to learn about this innovative model and be sure to check out our Student Success and Retention Grants Spotlight to learn how this program is supporting student success.
Looking ahead at future funding opportunities within the Cristo Rey Network and beyond, we are excited about the innovation in this educational space. It's imperative that educators continually create and improve upon models that work to ensure the accessibility of quality education to all students. It's our goal at The Howley Foundation to do our part in elevating those models and strengthening schools that are making a real difference.
Sincerely,

Meg Howley
Executive Director
The Howley Foundation