< Back to All News
Perspective Feature: Reflections on Expanding Howley Scholars Program
Dear Friends of The Howley Foundation,
As you start to think about the upcoming school year, we would like to highlight the success of the growing Howley College Scholars Program.
In 2017, we piloted a college scholarship program through the Cristo Rey Network with the purpose of expanding educational opportunities to students from select high schools. Because of the outstanding results of this program and inspired by the success of our high school scholarship program, we decided to create more opportunities for students from partner high schools in Cleveland and Philadelphia with which we have had a strong working relationship. We currently work with seven partner high schools, four in Cleveland and three in Philadelphia.
Howley College Scholars are students who maintain a 3.0 GPA in high school, choose a major approved by the foundation (typically in STEM, business, healthcare, or education), and attend an approved college. We approve scholarships to specific colleges or universities because we know these are schools that have demonstrated success in graduation rates, especially with Pell Grant eligible students, and provide the support systems necessary for our scholars to succeed at the college level.
As you can see in the video spotlight, The Howley College Scholarship Program has had a meaningful impact on students like Nayla, who credits The Howley Foundation with relieving financial stress so that she can focus on her studies. We're looking forward to great things from you, Nayla!
In addition to funding college scholarships, we also fund part of the salary for alumni coordinators at each partner high school. The alumni coordinators provide additional support to our College Scholars, many of whom are first-generation college students, so they may feel more comfortable in their surroundings on-campus and know where to find the resources they need for academics, financial aid, work study, and other services.
To date, we have 170 Howley College Scholars, who have each received an average of over $5,000 per year for each of their four years of college education. Check out our College Scholars spotlight that notes key partnerships and our approach to this type of support.
We continue to explore areas to create more opportunities for students who are driven to improve their social and economic mobility, and look forward to the success of our College Scholars.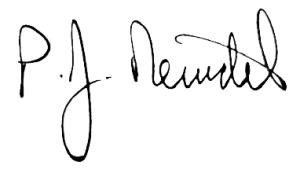 PJ Reindel
Executive Director
The Howley Foundation