< Back to All News
Perspective Feature: Reflections on Starting the Howley Scholars Program
Dear Friends of The Howley Foundation,
The Howley Foundation started its scholarship program in 2005 with one student, Arianne Lovey (pictured below). Ari received her Ph.D. in Biomedical Sciences, Infection, Immunity & inflammation from Rutgers University in 2020. Her success has inspired all of us.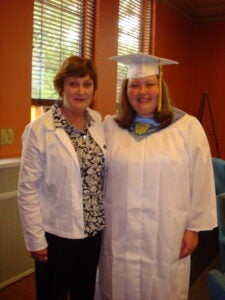 Dr. Lovey (I am proud to write that) has helped us understand the substantial impact that can be made on the lives of our students. A quality education with a value system has the potential to make a lifelong impact on students. We firmly believe the combination of academic rigor, a strong work ethic and a desire to contribute meaningfully to society are factors that can change the trajectory of a young person's life.
Over the years, we have come to realize how many children do not have access to quality educational opportunities. This is particularly true in urban areas such as Philadelphia and Cleveland. The Foundation currently supports over 700 Howley Scholars with 500 in 23 high schools in Cleveland and Philadelphia. The program has grown to include scholarships at middle schools, boarding schools and colleges. We are also branching out to include national school networks such as the Cristo Rey Network.
Starting with Ari, and every year since, we visit each of our schools to meet and learn about our scholars. Usually these meetings are over breakfast or lunch and always include some great conversations. It is inspiring to spend time with so many talented young people.
All of us at The Howley Foundation applaud Ari's accomplishments and thank her for helping us tell her story.
To learn more about Ari and the origin of our scholarship program, please click here to watch the video.
Sincerely,
Lorie Howley
Founder & Trustee
The Howley Foundation