< Back to All News
Saint Ignatius Receives $5M Gift from the Howley Foundation
Originally published on the Saint Ignatius website
Saint Ignatius High School received a $5 million gift from The Howley Foundation that will expand the Howley Scholars program at the school. The Howley Scholars program at Saint Ignatius started in 2014 with one high school student. There are currently 29 Howley Scholars at Saint Ignatius High School and The Welsh Academy. This new, 12-year gift commitment will allow Saint Ignatius High School's program to expand to 36 high school scholars and nine Welsh Academy (middle school) scholars. Scholarship recipients are selected based on the combination of financial need and high academic achievement.
In addition, starting in the 2023-2024 academic year, one Howley Scholar will be chosen as the Rich Clark Memorial Scholar at Saint Ignatius High School. The late Rich Clark was Principal at Saint Ignatius from 1991-2003 and also served other Catholic schools in various leadership roles throughout the Greater Cleveland area. The Clark Scholar will be selected from one of the Partnership Schools' network of grade schools, where Clark served as the Founding Director until his passing in 2022.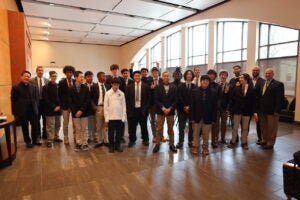 "We are thrilled to continue to support the mission of Saint Ignatius High School and The Welsh Academy with this expansion of the Howley Scholars program," says Nick Howley, founder and trustee of The Howley Foundation and chairman of the organization's Board of Directors. "The importance of providing access to a quality education in Cleveland for as many students as possible, regardless of economic means, is at the core of the mission of The Howley Foundation." Howley is 1970 graduate of St. Joseph's Prep in Philadelphia and a strong supporter of Jesuit education.
Fr. Raymond P. Guiao, S.J. '82, President of Saint Ignatius High School, says, "We are so very grateful to The Howley Foundation for this tremendous gift and expansion of the Howley Scholars program here at Saint Ignatius and The Welsh Academy. The Howley Foundation's commitment to our school and allowing accessibility to students from modest economic means helps enrich our community by making a Catholic education in the Jesuit tradition here at Saint Ignatius available to a more diverse group of students."
About Saint Ignatius High School
Saint Ignatius High School, which opened its doors September 6, 1886, is a Jesuit college-preparatory school from grades 6-12. The school enrolls nearly 1,400 young men who hail from 96 cities in a nine-county region. Located in close proximity to downtown Cleveland in the vibrant and energetic Ohio City neighborhood, the school occupies 23 acres and includes 19 buildings and three athletic fields. The school has 110 faculty members, 90 percent of whom hold advanced degrees. Academically, Saint Ignatius is a regional and state leader in National Merit finalists and Advanced Placement scholars. Nearly 100 percent of Saint Ignatius students go on to four-year college programs at universities across the United States.