< Back to All News
The Howley Foundation Receives Prestigious Award for Innovative Philanthropy
On November 4, 2022, The Howley Foundation was honored by the Greater Cleveland Chapter of the Association of Fundraising Professionals with the Philanthropy Innovator of the Year Award. Nominated by Cleveland Clinic, The Howley Foundation was recognized as a leader in educational philanthropy, celebrating founders Nick and Lorie Howley for their support of innovative problem solving and inspiring others to join them in advancing the education of young people in Northeast Ohio.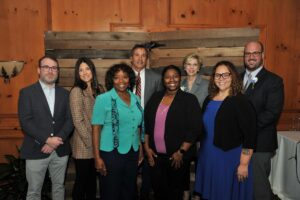 In 2016, The Howley Foundation established the ASPIRE Nurse Scholars Program, a local high school and college program that seeks to increase diversity in healthcare, address opportunity gaps, and reduce health disparities in the community.
In partnership with the Cleveland Clinic's Stanley Shalom Zielony Institute for Nursing Excellence, participants attend a series of enrichment courses focused on relationship-based care, research and evidence-based practice, simulation healthcare and more. Seniors who choose to return to the program participate in a clinical nursing experience and have the opportunity to earn a scholarship to pursue a Bachelor of Science in Nursing from the Breen School of Nursing and Health Professions at Ursuline College after high school.
Due to the success of the program, and after several ASPIRE students expressed a desire to pursue a career in healthcare outside of nursing, The Howley Foundation funded an expansion of ASPIRE with three additional career tracks. The program now offers similar enrichment courses in respiratory technology, surgical technology, and sterile processing.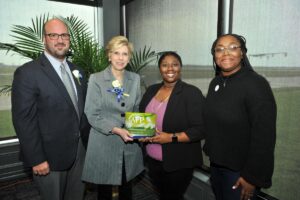 In launching these initiatives, The Howley Foundation has created an educational pipeline program at Cleveland Clinic to increase accessibility to advanced medical education and employment. Nick and Lorie Howley's active engagement with the ASPIRE students was cited as one example of how committed the Howleys are to each student's success.
Members of The Howley Foundation expressed their gratitude for being recognized alongside such a prestigious and dedicated group of community leaders, reiterating their commitment to changing lives through high-quality education.