< Back to All News
VASJ Students ASPIRE to Become Nurses
Originally published on the Villa Angela-St. Joseph High School website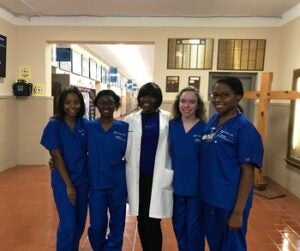 A wonderful opportunity was recently offered to five VASJ students who are looking to pursue a career in nursing and healthcare.
Last year, an email was sent out to all VASJ students who were eligible to apply for the ASPIRE Nurse Scholars Program, an enrichment program designed for high school juniors who are interested in pursuing a career in nursing. The student must be a junior with an average GPA of 3.0 in order to be considered for this opportunity.
ASPIRE focuses on providing participants with career information and critical skill sets to help prepare them to enter into a higher education nursing school and beyond. The program is coordinated by Daria Sheafe, a Nursing Coordinator at the Cleveland Clinic and will help answer the question of whether or not these students want to pursue a career in nursing.
"I absolutely love being in this program," says VASJ senior Schenley Blase who is one of the five VASJ students in the ASPIRE Program. "Going into it I wasn't sure if I wanted a career in nursing but this program has assured me that I want to take that path. Thankful is definitely an understatement!"
In this 12-week program, students develop their understanding of a nursing career by focusing on themes such as strength-based assessment, relationship-based care, patient experience, and health literacy. The ASPIRE program will truly allow students to hone their skills in the medical field and go out into the world to help those in need.
"This program will provide me with the skills that are critical for me to become a Patient Care Nursing Assistant straight out of high school," says Schenley. "Not only that but I will be attending Tri-C on a full scholarship thanks to the sponsor of the ASPIRE program, the Howley Family Foundation."
The Howley Family Foundation, which awards academic scholarships and tuition assistance to elementary, high school, and college students, want to make sure that students receive the best education possible, regardless of economic means. This is the same foundation which received the VASJ Distinguished Foundation Award at the Hall of Fame Induction Ceremony on December 1, 2016, for their longtime financial support of VASJ students.
"This is a tremendous opportunity for students to learn and experience the nursing profession," says VASJ guidance counselor Mr. Chris Petitti. "It provides students with a more hands-on learning approach and allows them to apply what they learn in the program."
The Viking Village will be cheering on these students as their dreams come to fruition.