< Back to All News
Foundation Feature: We Can Do Hard Things
The Howley Foundation and high-quality schools: we were made for each other.
One of the areas where The Howley Foundation can make a significant impact for students from lower socioeconomic backgrounds is by funding the creation and replication of high-quality schools. We can change the lives of children and their families by supporting school networks that offer an alternative to the status quo. As the lead funder of the recent expansion of Partnership Schools to Cleveland, we are investing in the youth of our community.
When we first heard of Partnership Schools and their success in turning around low-performing Catholic schools in New York, we were a bit skeptical. However, after thorough research, multiple site visits, and familiarizing ourselves with their academic and management models, we became believers.
Partnership Schools is a good partner for us because they teach values that resonate with us. Their high expectations for each one of their students show that they value the individuals they serve, and their various mottos and catchphrases like, "We are made for each other," and "We can do hard things," don't just sound great, but they inspire their scholars to be their best. We also like that school leadership is hyper-focused on delivering content-based instruction, investing time and resources in developing their teachers, and have a solid track record in achieving academic results.
It has been said that Catholic schools have been the greatest engines for economic mobility in the history of our country and they continue to provide opportunities to change the economic trajectory of families living in and near poverty. We have found that Catholic schools in urban areas can provide the right mix of academic rigor and character formation that seeks to educate the whole person, and we believe our support for models like Partnership Schools and others will ensure that these school do not just survive but thrive.
I invite you to learn more about Partnership Schools by checking out the video interview and grantee highlight.
For all the families seeking upward social and economic mobility, we CAN do hard things, and we must.
Sincerely,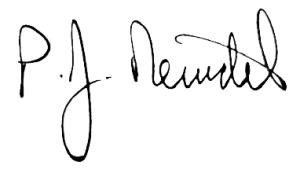 PJ Reindel
Executive Director
The Howley Foundation